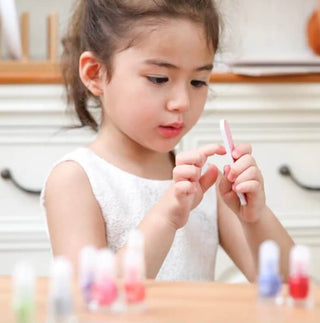 70% Water
Suncoatgirl nail polish was created by founder Ying, a Canadian chemist and a mother of two girls. Suncoatgirl kids nail polish replaces all the chemical solvents in a typical nail polish bottle, ,namely acetates & toluene, alcohol, acetone etc,  with water. It is made with up to 70% water and colored with mineral pigments and natural colorants . Suncoatgirl kids' nail polish lasts for days on fingernails, and can last for weeks on toenails. 
Suncoatgirl kids' nail polish is manufactured at the brand's facility in Guelph, Ontario, Canada.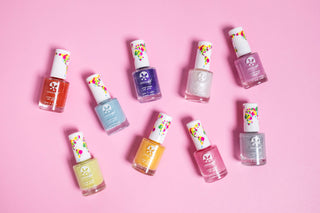 The Most Natural Nail Polish
Are you constantly nagging your mom to let you play with her nail polish, only for her to refuse due to the unpleasant and potentially harmful chemicals? Do you believe that 3-free, 5-free, and 15+ free nail polishes are adequate? Just take a sniff and you'll understand exactly what we mean.
Suncoatgirl nail polish exceeds the quality of 3-free, 5-free, and even 15+ free kids' nail polish by a significant margin. In fact, it stands as the most natural nail polish available on the market!
Product Safety
Suncoatgirl kids nail polish complies with Health Canada, US FDA cosmetics regulations and European Cosmetics legislation (REGULATION (EC) 1223/2009 RELATING TO COSMETIC PRODUCTS).
Suncoatgirl conforms to ASTM D4236: extra steps have been taken to ensure safe nail polish for kids: Suncoatgirl natural nail polish colours have been evaluated by board-certified toxicologist (Diplomat, American Board of Toxicology), at a US FDA recommended consumer product safety lab.
The result: Suncoatgirl kids nail polish conforms to the health requirements of the American Society for Testing and Materials (ASTM) standard D4236 and meet the criteria defined in the U.S Consumer Product Safety Commission's (CPSC) Regulations 16 CFR 1500.14 (described in the Federal Register Announcement 57:197 pp. 46626-46674, dated Friday, October 9, 1992).