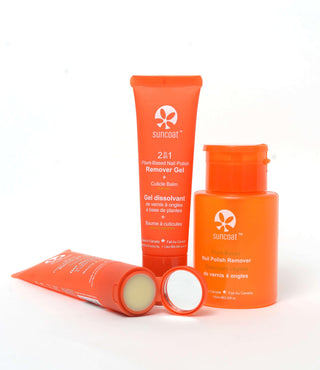 Natural Nail Polish Remover
Suncoat has been a leader in this space since 2003. Suncoat's corn & soya based nail polish remover was the very first to the market.
Suncoat natural nail polish remover is plant-based & 100% natural. It is made from corn & soya bean-derived ingredients. Suncoat nail polish remover is gentle to nails and skin, readily biodegradable, vegan, and effective. Our natural nail polish removers work to break down and dissolve nail polish in a similar way to traditional removers.

Better For You
Both ethyl lactate & Soy methyl ester, or methyl soyate have a low environmental impact. As a bio-based alternative to traditional solvents, they offer many advantages. Not only is it biodegradable and non-toxic, it also leaves no harmful impact on the environment. They have a low VOC ( Volatile Organic solvent Content), which means it releases fewer volatile chemical compounds into the air, making it a safe and sustainable solution.
Suncoat corn & soya based nail polish removes all nail polishes, water-based and conventional. It has an oil-like consistency, and will not dry or discolour nails. They are packaged in a handy container that gives you easy and spill-free access to the remover. No twisting, pouring, or fussing required—a simple press is all you need to deliver the perfect amount onto your cotton ball.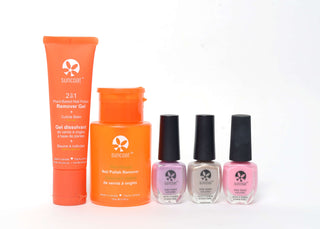 Corn Based
The corn based ingredient in Suncoat nail polish remover is called ethyl lactate which is derived from corn stock fermentation. 
The ingredient from soya bean we use is called methyl soyate or soy methyl ester, a blend of methyl ester of soya fatty acid.
Benefits of Corn-based Removers
No petroleum ingredients. does not contain any compounds that contribute to global warming.
Low vapor pressure and high loading capacity.
100 percent biodegradable to carbon dioxide and water.
Safe, non-toxic, non-carcinogenic.
Rinses with water.
No environmentally hazardous ingredients.
Made from renewable resources.
No ozone depleting chemicals (ODCs).
No hazardous air pollutants (HAPs).
No global warming compounds.
not listed on the state of California's Proposition 65 List, which identifies potential carcinogens, teratogens, and other harmful chemicals.
Flash point over 150 degrees F., make it safer and easier for storage and transportation.