We believe fingers and toes are 20 little palettes just waiting to be painted.
We believe fun and toxic chemicals don't belong in the same sentence.
No Harmful Chemicals
Are you nagging your mom wanting to play with her makeup and nail polish, but she doesn't feel comfortable letting you because of the smelly and harmful chemicals?
You think 3-free, 5-free and 15+ free nail polishes are good enough? Far from it. Take a whiff and you'll know what we're talking about.
Created by our founder Ying, a Canadian chemist and a mom of two girls, Suncoatgirl natural, kids nail polish is water based, odourless, chemical fume free and peels off. No nail polish remover is needed. Lasts for many days on finger nails, and can last for weeks on toe nails.
Suncoatgirl kids nail polish replaces all the chemical solvents with water. It is made with up to 70% water, and is free of toluene, formaldehyde, parabens, acetates, alcohol & acetone.
Suncoatgirl nail polish is so much better than 3-free, 5-free and 15+ free kids nail polish. It is the most natural nail polish on the market.
Each bottle is made with up to 70% water
No chemical fumes! Only water evaporates into the air when applied, healthier for your body and the environment
Peels off, no nail polish remover is needed
Odourless, non toxic
No chemical solvents! Free of toluene, formaldehyde, phthalate plasticizers, acetates, alcohol, acetone
Fun, vibrant colours derived from minerals and natural colourants.
Durable, will not come off when washing hands or taking a shower
Cruelty free.
Non flammable, not a safety hazard
Made in Canada
For anyone three years and older.
Suncoatgirl nail polish is formulated and manufactured at the brand's facility in Guelph, Ontario, Canada.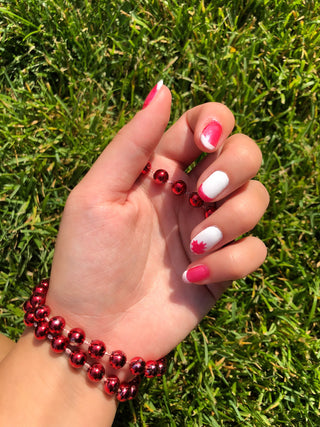 Product Safety
Suncoatgirl kids nail polish complies with Health Canada, US FDA cosmetics regulations and European Cosmetics legislation (REGULATION (EC) 1223/2009 RELATING TO COSMETIC PRODUCTS).
Suncoatgirl conforms to ASTM D4236: extra steps have been taken to ensure safe nail polish for kids: Suncoatgirl natural nail polish colours have been evaluated by board-certified toxicologist (Diplomat, American Board of Toxicology), at a US FDA recommended consumer product safety lab.
The result: Suncoatgirl kids nail polish conforms to the health requirements of the American Society for Testing and Materials (ASTM) standard D4236 and meet the criteria defined in the U.S Consumer Product Safety Commission's (CPSC) Regulations 16 CFR 1500.14 (described in the Federal Register Announcement 57:197 pp. 46626-46674, dated Friday, October 9, 1992).
Ingredients
Aqua (water), Polyurethane, Acrylates copolymer. May contain (+/-): Mica, Iron oxides (C.I 77491, C.I 77492, C.I 77499), Titanium dioxide (C.I 77891), Chromium oxide greens (C.I 77288), Ferric ferrocyanide (C.I 77510), Carmines (C.I 75470), Ultramarine blue (C.I 77007), Polyethylene terephthalate (glitters*).
*: inert plastic glitters. Conforms to ASTM D4236.
Application
Shake well before use. Apply 2 to 3 thin coats to clean, grease-free nails. Dry fully between coats for a durable finish.
Peel off the nail polish by soaking nails in warm water for a couple of minutes, peel off from one corner.
Pro Tips:
Apply Suncoat Clear Top Coat natural nail polish for a professional glossy finish and improved durability: https://suncoatproducts.com/shop/suncoat-water-based-nail-polish/ 
2. Use Suncoatgirl Clear Gloss kids nail polish as the basecoat to turn any of your favourite nail polish peelable: https://suncoatproducts.com/shop/nail-polish/