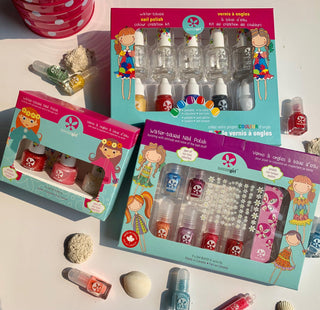 Kids Nail Polish Set
Our kids' nail polish sets are specifically designed for children, offering a safe and age-appropriate means to explore and indulge in nail art and decoration.

These sets comprise child-friendly water-based peel-off nail polish along with accompanying accessories.

Among the exciting nail polish sets we offer is the Color Creation Kit, which empowers kids to craft their own nail polish colors. This delightful and imaginative activity allows children to express themselves through the invention of unique nail polish shades. The Color Creation Kit provides a hands-on experience that fosters creativity and artistic exploration, all while maintaining safety and suitability for young users. As with any artistic or craft endeavor, we recommend adult supervision, particularly for younger children, to ensure the secure and proper use of tools and materials.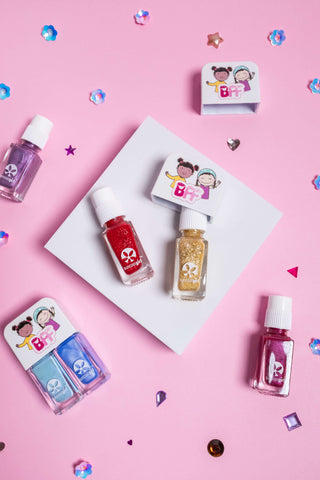 Fun, Vibrant, Safe
Our nail polish sets come in an array of vibrant and enjoyable colors, enabling children to seamlessly mix and match, resulting in distinctive nail designs. All the included polishes are water-based, virtually odorless, and completely free of chemical fumes.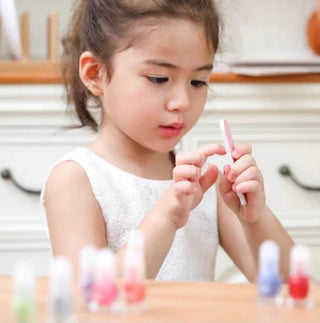 Peelable
Unlike regular nail polish that needs special remover, the nail polishes in our awesome gift sets can be peeled off! That means kids can take them off super easily without any yucky chemicals. It's like magic for your nails!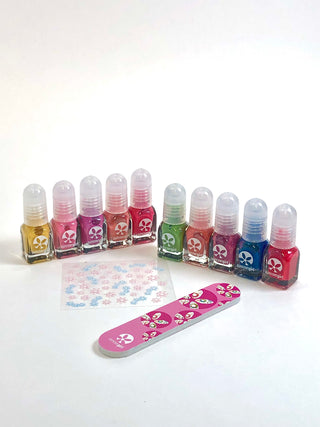 Glitter, Stickers & More!
Certain sets also come with fun nail stickers, glitters, and other cool nail decorations that kids can use to make their manicures even more awesome!
Remember, even though these nail polish sets are designed for kids' safety, it's still a good idea to have a grown-up around while you're using them, especially if you're younger. Make sure you're in a room with good airflow and be careful not to get anything near your eyes or mouth. Safety first!